New To The Practice Church?
We are a community seeking to live our everyday lives in the presence of God, so we might be formed by Jesus, to be like Jesus, for the sake of the world.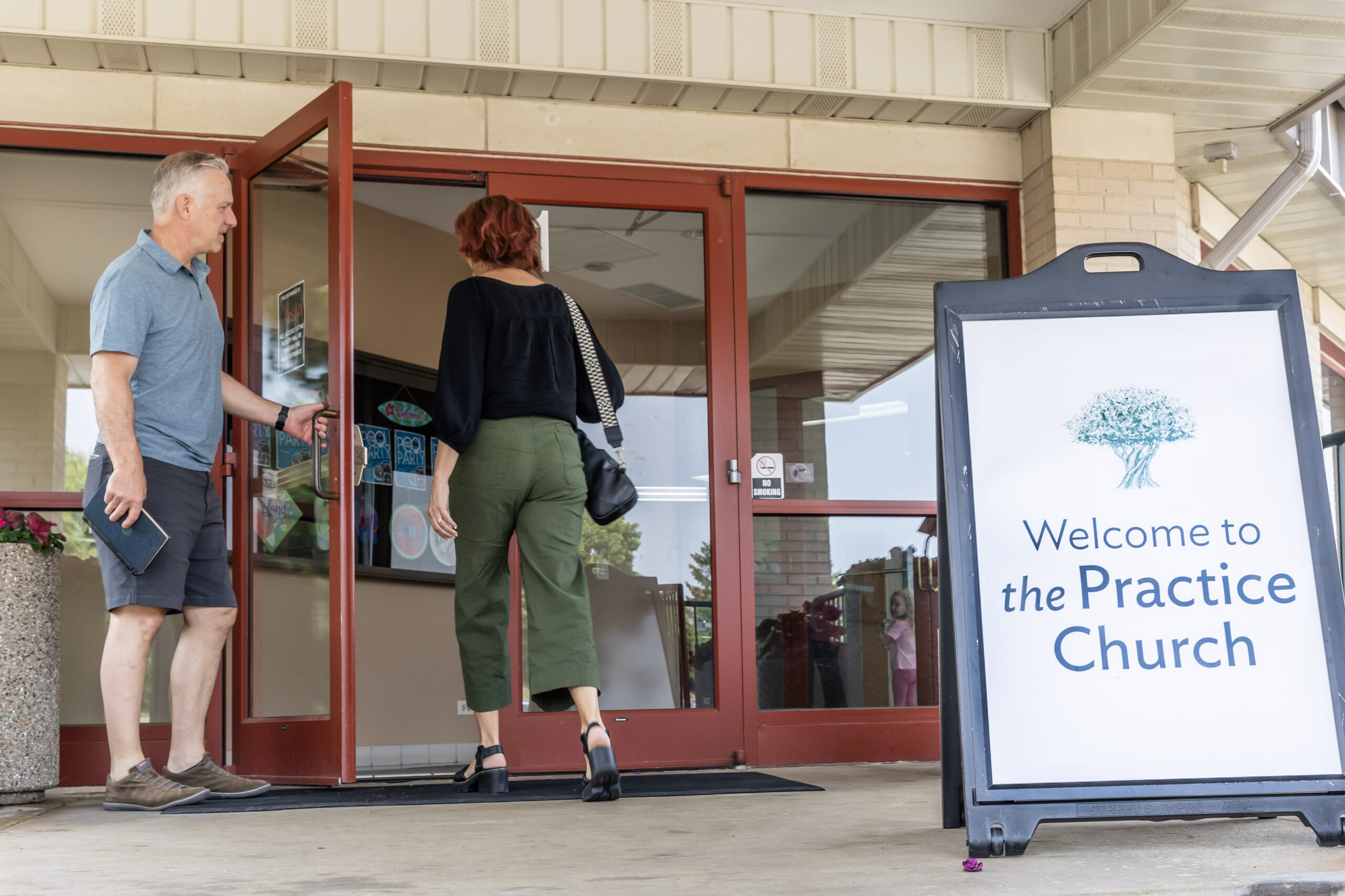 We would love to have you join with us on a Sunday morning. We gather most Sundays at 10am at the South Barrington Club at 3 Tennis Club Lane in South Barrington. Our Practice Kids ministry serves kids from nursery through 5th grade.
How we worship matters, so we are intentional about what we do and how we do it when we come together. Before you visit for the first time, it might be helpful to read our responses to some common questions about our Sunday gatherings!
Why are we seated in the round?
The physical setup of our worship is important to us. By sitting 'in the round' with the communion table in the center, our gathering is literally centered on the presence of Christ with us. It also reminds us of the Biblical truth that we are all priests in God's kingdom. (1 Peter 2:9, 1 Corinthians 4:1) We are able to look across the room and recognize we are not alone as our sisters and brothers lead us in song and prayer.
Why are kids included in our worship?
Having kids see their parents participating in worship is important and formative, along with being a part of the larger community and seeing their purpose within it. We seek to be an intergenerational church which is one that nurtures Christ-centered community by bringing together two or more generations in planned & purposeful settings where all are mutually invested.
Why do we pray communal prayers in our worship?
By praying aloud together, we are reminded that our walk with Jesus is not just personal. We are always in the company of those followers of Christ who have gone before us, who journey alongside us and those who will come after us. Communal prayers also give us a chance to unite with and submit to one another across history and geography and challenge us to say things to God that we would not think to say on our own.
Why do we read scripture aloud in our worship?
We read scripture aloud in order to remind ourselves who God is and what God has done. On any given Sunday, most of our readings are those assigned by the Revised Common Lectionary. This connects us to churches from various traditions across the world who are hearing the same scriptures read in their contexts. It also helps us to hear from the whole sweep of scripture over a three-year cycle.
Why are prayers of confession and assurance a part of every gathering?
When we walk with Jesus, it doesn't take long to recognize how far we fall short of his invitation to live and love like him. In confession, we strive to be honest about our sin, so that we may be free from the temptation to hide our failings and free to run back toward the loyal love of God. This is immediately followed by an assurance of forgiveness. God doesn't play games with us, or expect us to get our lives together before we can be forgiven. The assurance is a necessary reminder that we are not left in our sin and shame but we are met with the full measure of God's mercy and grace.
Why do we 'pass the peace?'
Because the Spirit of God is present within us, we are empowered to share the love, joy, and peace of God with one another. In a culture marked by division and tribalism, sharing the peace of Christ is a revolutionary act. We practice extending the peace of Christ to those around us, so that we might become the kind of people who can offer Christ's peace to our sisters and brothers, our neighbors, and even our enemies in our daily lives.
Why do we receive communion every week?
Everything we do in our gathering leads us to the presence of Christ at the communion table.  We don't take communion. We receive communion, because it was by taking in the Garden of Eden that the world was broken. And it is by receiving the gift of God's life, love, and presence that the world is being made new.  Jesus invites us to the communion table and offers himself to us in the bread and the cup. In communion, we celebrate and give thanks for the life, death and resurrection of Jesus, and we look forward to the day when He will return and we will eat and drink face to face with our Savior and with all the saints across the ages.
Why is a practice always included with the teaching?
If the purpose of our spiritual journey is becoming like Jesus, we have to recognize that it does not come from learning alone. Teaching is an important part of our gathering, but which of us can love our enemies or stop being anxious because of what we learn? Rather than accumulating more knowledge, we need to become the kinds of people who can do what Jesus did. This is why our teachings always include a practice. These practices that we can continue throughout the week help us participate with the presence of Christ in our everyday lives so we can be formed by Jesus to be like Jesus for the sake of the world.
Why do we gather in 'tables' once a month?
We frequently say that Sunday is not the main event. Our everyday lives are the main event in our walk with Jesus. In addition to fostering an environment for more intimate conversation and deeper relational connection, our Table Sundays remind us that our large gatherings are not the only (or even the primary) place where we recognize God's presence with us.